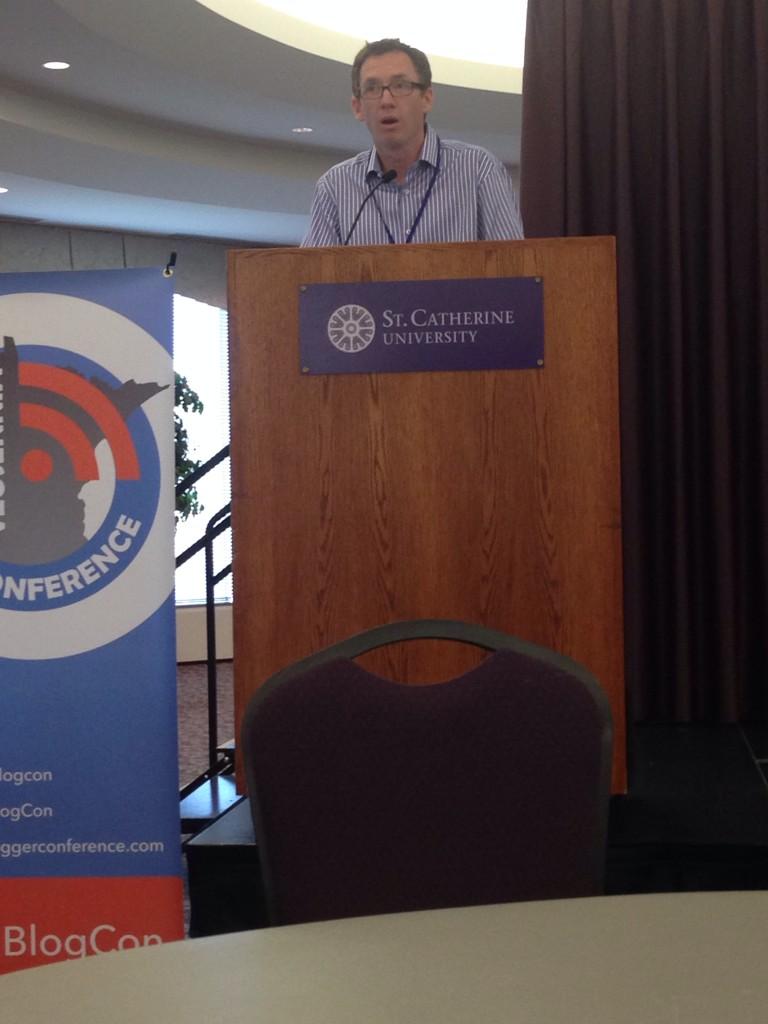 St. Catherine University's MBA Program had the pleasure of sponsoring the 5th annual Minnesota Blogger Conference on October 25, 2014. The event was an incredible success. The energy was palitable on campus as seasoned professionals and new bloggers alike poured into the open doors of Couer de Catherine.
Anticipation was high as the audience waited for the first speaker to be introduced– Peter Goddard, representing Red Current. Though he claimed that he was not as qualified to speak at the event as some of his colleagues, he certainly held his own with his insightful session. Goddard reminded us of the importance of storytelling and its significance to the success of customer engagement. After all, without making connections with customers, businesses are destined to be come irrelevant. Goddard also stressed that having sufficient schedule and time communication is crucial to running a successful business. You can learn more about these concepts on the Red Current Blog.
Up next was Christoph Trappe, a professional content marketer that excels in storytelling. His session was incredibly eye-opening because it ran through the 7 ways to get on a blogging schedule. In true form, Trappe impressed the audience with his ability to schedule live-tweets during his own live session. His was a humorous and lively showing that illustrated his blogging expertise. He emphasized the importance of authentic storytelling. Trappe engaged his crowd in such a way that transported all of us into his line of thinking and made us all want to hop behind a computer and get cracking on a blogging schedule.
Trappe's was a hard act to follow but Katie Konrath was exactly the woman for the job, bringing in an entirely different concept– looking at blogging from the perspective of the human brain and the power of emotion. The audience was intrigued as she encouraged us to utilize the infamous "pros" and "cons" list but instead of using those terms, using  the more positive "for" and "wish for." Konrath also reminded us all of the power of human emotion and the effects that it has on the minds of your audience. Sometimes, we spend too much time thinking about what we need to do and don't spend enough time working to empower our audience, which is a shame. Katie Konrath's enthusiasm for the topic enveloped the room and left the audience thinking about the minds of others.
In between this session and the next, we all got the opportunity to stop for a break and mingle with our fellow conference goers. This was incredibly beneficial because we got to do what we had all been waiting to do– network. There were blogger's everywhere talking about their livelihoods, discussing the wisdom of the speakers, and all-together discussing their reason for being at the event. The energy was infectious and a community was formed.
The moment we had all been waiting for had finally arrived. The keynote speaker, Dan Morris, was stepping up to the microphone and he looked as professional as ever. Then, the man began to crack jokes that had the crowd in stitches. The way that he gained the complete, unadulterated attention of the crowd was incredible and it was a thing of beauty to watch him connect with people through his storytelling. He was there representing Blogging Concentrated and reminded us to ask specific and unique needs and interests of our audience– something that is forgotten all too often.
Lee Odden spoke about his Top Rank Blog and the methods that he used to promote its success. He brought forth ideas about finding the target audience by realizing that you need to make yourself accessible and realize the differences that each market possesses. Sometimes you just have to start with a question as simple as, "Why am I blogging?".
Finally, it was Adam Dince's turn. His was an inspired session about optimizing search engine usage; however, it was about more than that. It was about passion. He stressed that we should, "Write content for people, but structure it for search engines." The intelligent comments he made on being a "writer" versus the stereotypical "blogger" were thought-provoking and, frankly, he was right. He even gave out a link to further explore his ideas on blogging that I highly recommend.
Overall, Minnesota Blogger Conference was an extraordinary success that wouldn't have been made possible without the esteemed speakers, generous sponsors, eager attendees, volunteers and, of course, all the hard working staff at St. Catherine University. Remind yourself next year that this event sells out quickly.